INTRODUCTION TO NOVELIS
Novelis is the leading producer of flat-rolled aluminum products and world's largest recycler of aluminum for use in beverage cans, automobiles, aerospace, commercial transportation, architecture, consumer electronics and other applications. The company employs approximately 15,000 people across 33 operating locations in 9 countries.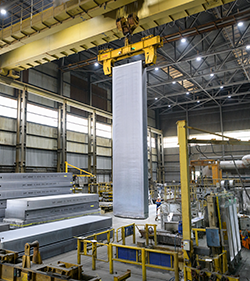 Its global headquarters are in the city of Atlanta, with its Global Research and Technology Center also situated close by in Kennesaw, Georgia, about 35km from Georgia Tech, the location for ICAA19.
Novelis Innovation Hub at Georgia Institute of Technology
The Novelis Innovation Hub at Georgia Tech was established in 2019 to promote basic and translational research, and development of innovative business models, as well as to foster related educational endeavors. Serving as a model for industry-university collaboration, it provides a cross-functional hub connecting Novelis' technical and business innovators with Georgia Tech's students and faculty. ICAA19 in 2024 will coincide with the 5th anniversary of the creation of the hub.
INTRODUCTION TO GEORGIA TECH
Georgia Tech is a leading research university committed to improving the human condition through advanced science and technology. Georgia Tech is in the business of creating the next — the next idea, the next technology, and the next legion of visionary leaders.
Georgia Tech has ~36,000 students with 56% graduate students and is No. 1 producer of B.S. and Ph.D. degrees in Engineering in the USA.
With more than $1 billion annually in research awards across all six Colleges and the Georgia Tech Research Institute (GTRI), Georgia Tech is among the nation's most research-intensive universities. It is an engine of economic development for the state of Georgia, the Southeast, and the nation.
Georgia Tech's mission is to develop leaders who advance technology and improve the human condition. Its mission and strategic plan are focused on making a positive impact in the lives of people everywhere.
For more than 135 years, the people of Georgia Tech have dared to imagine and then create solutions for a better future. The innovative culture and leadership continue, for Progress and Service for all.
Georgia Tech was the host of ICAA4 in 1994.